6 Fantastic Condos in Ashwaubenon, Wisconsin
Posted by Greg Dallaire on Wednesday, September 27, 2023 at 10:15 AM
By Greg Dallaire / September 27, 2023
Comment
Fabulous Condos in the Village of Ashwaubenon, Wisconsin
Are you currently in search of the perfect condominium? Look no further, as our team of real estate experts at Dallaire Realty is here to assist you! In this article, we will be your guide to the wide selection of condominiums available in the Village of Ashwaubenon, Wisconsin. Whether you're in the market for a retirement place or a friendly family home, these Ashwaubenon condos provide an extensive array of layouts and designs to cater to your current way of life.
With our primary focus on real estate, we love sharing the numerous attractions and many things to do in the beautiful state of Wisconsin. Backed by a dedicated team of local specialists - our mission is to ensure that your search for the ideal condominium is a seamless and stress-free experience!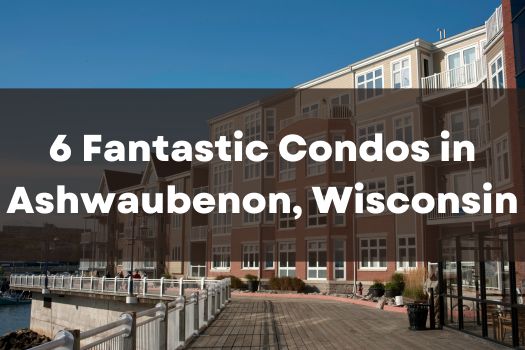 Ashwaubenon, Wisconsin, with its charming blend of urban amenities and natural Wisconsin beauty, is an ideal place to call home. If you're looking to experience the best of this vibrant community while enjoying the perks of condominium living, you're in the right place.
Located at 417 Aldon Circle in Ashwaubenon, Wisconsin - Station 417 is a brand new exquisite 17-unit condominium that sprawls across five stories, offering great views of the Fox River. These condos include access to a private clubhouse filled with a brand new fitness center and even an outdoor pool! Units range from a 2-bedroom 2-bath to a 3-bedroom 3-bath. These condos include generously-sized master suites, linked to a laundry room and utility room for your convience. Many units include additional spaces that could be used as an office or den. The heart of the home unfolds in an inviting open concept that seamlessly blends the kitchen, dining, and living areas. Relax outside after a day of work and enjoy the Fox River out on your personal balcony (some units even equipt with two balconies!) And for those who dream of waterfront living, boat slips are available for an extra fee—making this a truly exceptional offering.
If you're seeking a condo with all the views and a great ambiance, Waterford Heights Condominiums should be on your radar. Nestled in a prime location, the Waterford Heights community enjoys close proximity to numerous parks, green spaces, and the convenient Green Bay Austin Straubel International Airport (which makes these condos a great spot for avide travelers). Exhibiting a charming blend of suburban comfort and a colonial aesthetic, these condos feature partial brick exteriors and attached garages.
Inside these condos, you'll discover an open floorplan that seamlessly connects living spaces. Plenty of closet space ensures your belongings are organized, while the cozy gas fireplaces offer a perfect retreat during chilly Wisconsin winter evenings. These are just a few of the compelling reasons why Waterford Heights is bound to capture your heart.
Experience luxury living with Bay Harbor Condos, where generous square footage and high ceilings create an unparalleled living establishment. These condos offer more than just a residence; they provide a lifestyle similar to owning a single-family home, complete with attached garages and great landscaping. Inside, you'll find a wide range of floor plans throughout these units. Enjoy in-unit laundry, walking distance to the Fox River Walking Trail and nearby access to the Ashwaubomay Lake park.
West of The Fox River, Meadow Gardens is a charming community where you'll discover spacious condos complete with charming brick exteriors and convenient attached garages. Here, you're sure to find the perfect place to call home within a welcoming community of other condo owners.
The majority of these units come with basements, some of which are already finished, while others are brimming with untapped potential - ready for whatever plans you may have. Whether you envision a Packer party homebase or a dedicated movie theater, the possibilities are endless. Even enjoy your Wisconsin winter indoors near a gas fireplace!
Situated just to the north of Ashwaubenon's vibrant center, you'll discover the delightful condo community known as Valley View. This prime location is located near the renowned Lambeau Field, making it a haven for Titletown enthusiasts and Packer fans alike.
Within this welcoming community, most condos come complete with their very own private patios and balconies, offering residents the perfect spot to unwind and soak in the surroundings. With quick access to the freeway, Valley View residents have the freedom to explore the surrounding area with such ease. Whether you're embarking on recreational adventures, looking to root on the Packers each game day, or in search of a location that makes commuting to Green Bay manageble - this location effortlessly accommodates whatever you may need.
Last but not least, Water Wood Condos provide a serene and secluded living experience. Tucked away in a wooded area, these condos offer privacy and a sense of retreat. Water Wood Condos offer an array of features, including attached garages, private entryways, walk-in closets, and great sized living spaces.
Nestled in a prime location near W. Main Avenue, the Water Wood community provides convenient access to local dining establishments, shopping centers, and entertainment options not only within De Pere and Ashwaubenon, but also in the neighboring communities! Surrounded by numerous parks (including the popular Cornerstone Community Center), outdoor enthusiasts will LOVE the opportunities to enjoy nature just a few steps out your front door.
Ashwaubenon, Wisconsin, is a fantastic place to live, and these condominium developments cater to a variety of preferences. Whether you're looking for a waterfront oasis situated near the Fox River, a community-oriented lifestyle, or a suburban haven, there's a condo in Ashwaubenon, WI that can make your dream lifestyle a reality. Don't miss the opportunity to experience the charm of Ashwaubenon through these exceptional condo communities!
Give us a Call!
Dallaire Realty is here to help you find the ideal condo to call home. Our team of awesome realtors is committed to helping with your home search and buying process! Give us a call and let's find your dream home!