Exploring Condo Living in Bellevue, Wisconsin
Posted by Greg Dallaire on Wednesday, August 23, 2023 at 9:45 AM
By Greg Dallaire / August 23, 2023
Comment
Village of Bellevue, Wisconsin: A Great Place to Grow
Are you on the hunt for your ideal condo? Your search ends here with the help of our realtors at Dallaire Realty! This article is your guide to the wide array of available condominiums in the Village of Bellevue, Wisconsin. Whether you're interested in a condo to spend your retirement years in, or a space fit for your family, these Bellevue condos offer a wide range of layouts and designs tailored to match your personal preference!
With real estate as our central focus, we love sharing the many attractions that Wisconsin has to offer! Supported by a team of local experts committed to assisting you in discovering the perfect property, our mission is to ensure that your search for the ideal condo is as effortless and smooth as possible.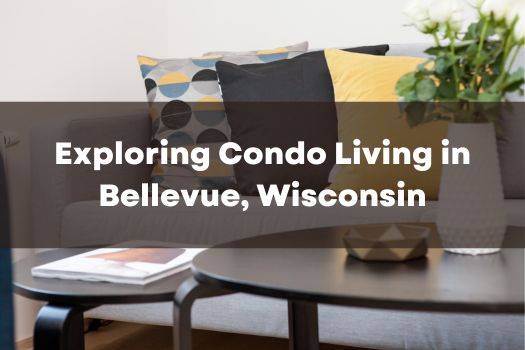 Nestled in the Green Bay Metropolitan Area, the Village of Bellevue is a progressive community. With around 16,000 residents, it stands as one of the most rapidly expanding areas in Brown County. This welcoming community provides an ideal hub for both your family and business leads, all while providing great housing options, including these 4 awesome condo associations! Interested in a new residents packet from the Village of Bellevue - click here!
Built in 1997-1998, River Pines Condos offers an upscale condominium community surrounded by numerous lakes, an 18-hole golf course and much more. The condominiums themselves are a sight to behold, offering generous square footage, garages, fireplaces, and an open-concept layout that facilitates a seamless flow throughout your living spaces. For those fortunate enough to call River Pines home, a wide range of amenities are included such as fishing lakes, a clubhouse, indoor swimming pool, fitness center, sports courts, and more.
With its location just six miles from Green Bay, Wisconsin, River Pines is a perfect neighborhood fit for any lifestyle. Enjoy the neighborhood feels while only being a few minutes away from large shopping centers, grocery stores, and more. Each property within River Pines offers its own unique waterfront perspective, architectural elements, and size, appealing to an array of potential homeowners.
River Pines Condo Amenities Include:
Indoor Pool
Fitness Center
Meeting Rooms
Backyards
Hot Tub
18 Hole Golf Course
Tennis Courts
Take a look at these new construction living quarters in the condo community of Royal View Condominiums - featuring open-concept ranch condos. These well designed residences come complete with state of the art kitchens, spacious walk-in closets, attached garages, and finished basements. Positioned just southeast of Downtown Green Bay, residents can enjoy the suburban atmosphere while remaining within close proximety of the many city attractions!
Enjoy the perks of living in a Royal View Condo in the Village of Bellevue, Wisconsin, such as the inclusion of lawn care and landscaping maintenance, along with snow removal in the winter months. Whether you're seeking insights into new and upcoming listings or wanting to set up a personal showing, the Dallaire Realty office is here to help.
For those who value a strong sense of community and convenience, Bel Meadow Condos offers just that. These condos are designed to foster a close-knit neighborhood feel while providing all the modern amenities residents desire. The well-designed units are complemented by a wide range of amenities within each condo. Whether you're taking a leisurely stroll through the neighborhood or gathering with friends in your spacious living quarters, Bel Meadow Condos creates an inviting atmosphere that truly feels like home.
Residents of Bel Meadows Condos can also enjoy Bel-Meadow Park, which features playground equipment for ages ranging from 5-12, swing set, climbers and a 20' open shelter.
Introducing the conveniently located Celestial Estate Condos near Green Bay! Situated southeast of Downtown Green Bay, Celestial Estate posseses an urban feel with homey, wooded surroundings. This community intertwines the vibrancy of city living with the calmness of a private lot. Residents beneift from the condominiums many amenities, including lawn care, landscaping offerings and of course snow removal services in the colder months. Enjoy open floorplans and the added convenience of in-unit laundry.
When it comes to Celestial Estate Condominiums, Dallaire Realty stands as your premier resource for your condo search and buying needs. Feel free to reach out to our office with questions or to arrange a personal tour!
Give us a Call!
Dallaire Realty is here to help you find the ideal place to call home, whether it's a condo, single-family home, townhouse, or any other property type. Our dedicated team is committed to assisting you throughout the entire process. Stay up-to-date with the latest listings that match your specific criteria, as we keep you informed about new properties hitting the market. Count on Dallaire Realty for all your Bellevue real estate needs; we are here to make your home search a seamless and successful experience.