5 Stellar Condominiums in De Pere, Wisconsin
Posted by Greg Dallaire on Tuesday, August 29, 2023 at 6:45 AM
By Greg Dallaire / August 29, 2023
Comment
Exploring Exquisite Condos in De Pere, Wisconsin
Located near Green Bay, Wisconsin, the city of De Pere offers several exceptional condo communities that possess the perfect blend of modern living and serene surroundings. If you're seeking a comfortable and convenient lifestyle while being surrounded by friendly neighbors, you'll want to take a closer look at these condo developments throughout the city of De Pere!
At Dallaire Realty our main priority is to help you find the place of your dreams! Whether that is a single family home, a luxury property, a townhouse, or even a condo community - we've got you covered with our expertise and knowledge about the Wisconsin area. We love showcasing Wisconsin's many attractions, events, and things to do throughout the state. With a dedicated team of local professionals by your side, were committed to helping you uncover the ideal property.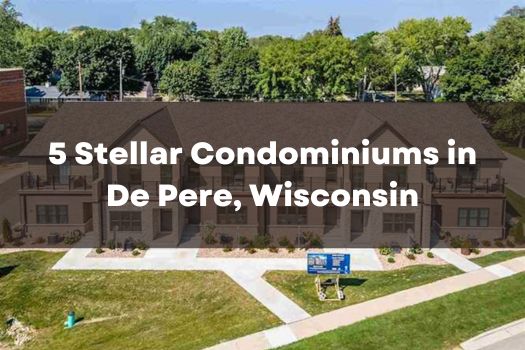 The River Park community is a true gem near the Fox River in De Pere, Wisconsin. Built in the 1980's - these condos are well renovated and sure to please. The well-designed condos offer a range of layouts to cater to various preferences. Whether you're a professional seeking a peaceful space after a busy day or a family looking for a move in ready condo, River Park has something for everyone.
With spacious living areas and modern amenities, these condos are not only a place to live but also a place to enjoy living in. The nearby Fox River Trail provides an excellent opportunity for outdoor enthusiasts to indulge in activities like biking or walking the dog while enjoying the scenic beauty that surrounds this Wisconsin area.
For those who value convenience and a strong sense of community, Trailside Place offers a unique living experience. Situated in a prime location with easy access to local amenities and attractions, these condos are perfect for individuals and families alike. Enjoy private patios, attached garages, and even fireplaces in the condos at Trailside Place! Head outside for a walk or grab a book to read near the small pond located within the center of the condo community.
Living at Trailside Place Condos means you're just a few steps away from thriving city De Pere, with its many local shops, delicious restaurants, and variety of attractions. The condos themselves boast contemporary designs, high-quality finishes, and spacious interiors to accommodate various lifestyles. Whether you're looking to entertain guests or simply relax, Trailside Place Condos has you covered.
The Fox River Condominiums are a testament to luxurious living in the city of De Pere. Overlooking the Fox River, this development offers great views out large condo windows. These well designed condos offer top-notch ammentities, large balconies and patios, and even a possibilty of your own boat slip and boat lift.
From the moment you step into these condos, you'll be greeted with an open concept layout. Spacious living areas, modern kitchens, and roomy bedrooms come together to provide a living experience that's both gorgeous and comfortable! Whether you're enjoying the stunning river views from your balcony or taking a leisurely walk along the riverbanks, Fox River Condominiums offer a lifestyle that's hard to match.
4. Killarney Trail Condominiums
Looking for new development? Killarney Trail Condominiums is your answer. Tucked away in the city of De Pere, this community offers a range of condos designed to provide residents with space and privacy. The beautiful surroundings, combined with the thoughtfully designed interiors, make these condos a true escape from the hustle and bustle of everyday life.
Living in Killarney Trail means enjoying the best of both worlds! These condos offer the tranquility of nature and the convenience of modern amenities. The condos are designed to accommodate various preferences, whether you're looking for a cozy space to call your own or a place to entertain friends and family. These open concept, single story condos offer attached garages, private entrances, and high ceilings.
Colonial meets cottage at the Irwin School Homes - offering a unique blend of character and modern comfort. Built in 2021, these condos have a The stone exterior, large windows, and unique layouts create a living experience that's rich in character and style. Irwin School Condos are a well-liked place to live thanks to private balconies, attached garages, in-unit laundry, and a great location just steps from the popular Voyageur Park.
Irwin School is one of the most sought-after condo complexes in the city of De Pere thanks to its open floor designs and several spectacular additions and finishes.
Embrace the De Pere Condo Lifestyle
Each of these remarkable condo communities in De Pere, Wisconsin, offers a distinctive living experience that caters to a variety of lifestyles. Whether you're drawn to the views of the Fox River, the convenience of living near Green Bay, or the charm of condo living, De Pere's condos have something special to offer.
Whether you're looking for a condo, waterfront property, townhouse, or any other sort of property, Dallaire Realty is here to assist with your home search! Our Dallaire team is committed to helping you at every step of the way. Give a call to Dallaire Realty for all of your De Pere real estate requirements; we're here to make your house hunting a smooth and effective process!