5 Exquisite Condos in Suamico, Wisconsin
Posted by Greg Dallaire on Tuesday, November 14, 2023 at 12:00 PM
By Greg Dallaire / November 14, 2023
Comment
Positioned along the western shore of Green Bay, Suamico, Wisconsin, is a hidden gem that features a growing community and scenic waterways. Just north of the city of Green Bay, this small town offers residents a great place to call home. In this blog, we'll explore 5 unique condominium communities located in the village of Suamico, Wisconsin. If you're interested in condos for sale in Suamico, or looking at relocating to Northeastern Wisconsin - we're happy to help with your home search process!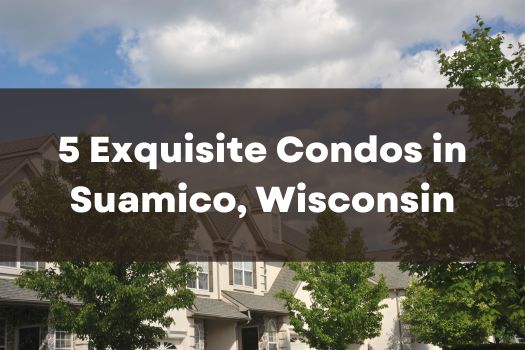 There is so much to do in the Suamico, Wisconsin area. From visiting the NEW Zoo & Adventure Park, to enjoying a craft brew at Ahnapee Brewery taproom, or hiking the many trails that wind throughout Brown County Reforestation Camp - Suamico is the perfect place to call home. This tight knit community is home to around 12,000 residents and invites many visitors year round. Now let's explore a few condos in the area! We've compiled 5 amazing condo communities in this comprehensive Suamico Condo Guide!
Chamber Hill Condos located in Suamico, Wisconsin is awaiting your arrival. Welcome to this newly finished condo community in Suamico - built in 2023! Enjoy easy access, upgraded features, enhanced insulation, and a finished garage at Chamber Hill Condos. Enjoy custom cabinets, quartz countertops, and a patio door leading to a maintenance-free deck off of the kitchen area. Explore the living room's vaulted ceiling and fireplace while overlooking the private backyard - with many of the condos featuring a wooded area. Chamber Hills Condos are conveniently located only 8 miles from the heart of the city of Green Bay, Wisconsin! Explore the nearby Brown County WI Barkhausen Waterfowl Preserve, Long Tail Point Lighthouse, as well as the Sunset Beach Park.
Within the village of Suamico lies Vickery Meadow Condominium community! Located in a homey community, Vickery Meadows condos offer an open-concept layout with cozy gas fireplaces, patios and decks, as well as in unit laundry. Enjoy spacious bedrooms, full bathrooms, spacious closets as well as many units containing finished basements. Located just steps away from one of the best restaurants in the Green Bay area, Rustique Pizzeria, you are sure to love living in this charming and flavorful community!
If you're looking for a condominium in a quiet community with easy access to life in the big city - be sure to explore Winter Park Condo community! Don't miss the chance for a stress-free lifestyle in this beautiful condo, nestled against a wooded backdrop. With lawn care taken care of - enjoy your time creating the space of your dreams and exploring your new neighborhood! With Wisconsin well known for snowy winters - you don't have to worry about snow removal either! These condos are up to date with an inviting open concept floor plan. Enjoy attached garages and the possibility of your condo including heated, finished interiors, epoxy flooring, and storage above! Explore the Winter Park community and experience stress free living with being able to spend more time on the activities you enjoy!
The Village of Sumaico is home to many amazing condo communities including the Scotland Meadows condominiums. Built in the early 2000's, these condos are conveniently located near Highway 41 but still offer a relaxing and secluded neighborhood. The property is conveniently near shopping centers, many amazing local restaurants, and falls within the highly sought after Howard and Suamico School District. Within the condos at Scotland Meadows, you'll find well maintained features and appliances including air conditioners, refrigerators, washers, dryers, microwaves, and more. With many of the condos going through recent renovations, you're sure to find the one to call home and make it yours. Enjoy open concept living, dining, and kitchen areas with great closet space.
Last but not least - the Whisper Ridge condo community in the Village of Suamico offers residents a peaceful place to call home. Explore a diverse community of condos featuring a range of beautiful styles, sizes, and affordable prices! Condos for sale at Whisper Ridge Condominiums span a wide range of prices, providing a variety of options to suit different preferences and budgets. The Whisper Ridge condos offer a range of square footage as well as a variety of bedroom and bathroom options. Enjoy pond views, sunrooms, and so much more at Whisper Ridge Condos in the Village of Suamico, Wisconsin.
Whether you're seeking a specific home, condo, or townhome style or size, we'd love to aid in your search for your home within the fantastic Suamico community - or throughout the Northeastern Wisconsin area. For any questions or assistance in exploring available condos for sale in Suamico, don't hesitate to contact one of our knowledgeable relators at Dallaire Realty!