Exploring Appleton, Wisconsin: Your Guide to Condos for Sale
Posted by Greg Dallaire on Monday, October 2, 2023 at 7:15 AM
By Greg Dallaire / October 2, 2023
Comment
Within in the heart of Wisconsin, Appleton is a city that seamlessly combines the charm of a small-town atmosphere with the amenities of a lively urban city. Located in the northeastern part of the state, Appleton holds a rich history, a up and coming arts and culture scene, and a strong feeling of community. But what truly makes this city a hidden gem for prospective homebuyers are the many condominium options the city of Appleton has to offer. Whether you're a first-time homebuyer, downsizing, or looking for an investment property, Appleton's condo market has something to fit every lifestyle. In this blog, we'll share a glimpse into the wide range of condos available in the city of Appleton, Wisconsin!
Guided by a team of devoted local experts, our mission is to guarantee a smooth and hassle-free journey in your search for the perfect home - whatever that looks like for you! Whether you're a first time homebuyer, looking to relocate to a condominium, or interested in investment properties - let our relators at Dallaire help with your search!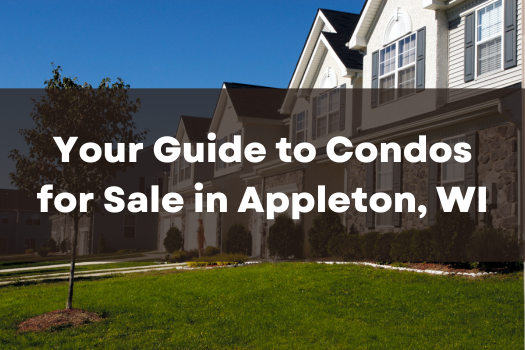 Greenwood Village Condominiums offers more than just a place to call home; it's a gateway to a lifestyle of serenity and convenience. Situated with easy access to Highway 441, this condo community consists of 31 unique condo units, each with its own distinct charm. These ranch-style condos include access to private backyards, patio areas, and beautiful surroundings. For gardening enthusiasts, there's an ample amount of room for flowers and plants - offering growing potential.
Greenville Village condos offer central air, fireplaces, and modern appliances including dishwashers, microwaves, ovens, refrigerators, washers, and so much more. Built in the late 1990's, you'll find plenty of space and storage throughout these open concept condos. Picture yourself cozied up on the patio with a cup of coffee and your favorite book in your private backyard - what a way to start your day!
Nestled in the inviting northwest side of Appleton, Wisconsin, Highland Heights welcomes you to an 83-unit condominium community. Each unit stands as a self-contained residence, similar to row houses, offering front and rear entrances, attached two-car garages, and private backyards. These 83 condos are spread amongst 17 buildings, ensuring a sense of community while maintaining privacy. Every unit includes either a sun porch, a patio, or even both, providing residents with simple space to enjoy the outdoors. Highland Heights provides both one-story and two-story units, catering to various lifestyle preferences!
The development of Highland Heights occurred in three phases, commencing in 1996 and culminating in its completion in 2001, which resulted in a well-planned and harmonious community. As for the surroundings, Highland Heights is on a 18.3-acre parcel, which is well-maintained and beautifully landscaped. The grounds are filled with over 2,000 trees and shrubs, creating a welcoming setting.
Located in Appleton, Wisconsin, the Villas at Apple Creek made its debut in 2006 and shortly become one of the most sought-after condominium communities in the Fox Valley. Its exceptional fusion of home design and lifestyle offers residents a harmonious and carefree living experience. Located north of Appleton on 37 acres, this 152-unit condominium community takes on a serene setting. Enjoy a ponds and wooded areas creating a peaceful and secluded haven. Nature envelops the community, yet it remains conveniently connected to the professional services lining Evergreen Road and is just a short drive away from Highway 41. Residents enjoy easy access to the many offerings in the Fox Valley. With Apple Creek and the Apple Creek Trail just steps away, it's a place where nature and convenience meet to create the ideal living environment!
Looking for an active community? The Apple Creek condominium residents enjoy a wide range of events. From breakfast outings to happy hours - and even an annual golf outing - this community is tight knit and always welcoming new neighbors! Enjoy game days in the club house and take on the outdoor pool in the warmer Wisconsin months.
Give us a Call
At Dallaire Realty, we're dedicated to assisting you in finding the perfect condo to call your own. Our team of real estate professionals is fully devoted to guiding you through the home search and buying process. Contact us today, and let's start on the journey to discover your dream home!