Guide to Best Places to Live in Wisconsin
Posted by Greg Dallaire on Monday, February 20, 2023 at 8:17:58 PM
By Greg Dallaire / February 20, 2023
Comment
Individuals and families relocating to Northeastern Wisconsin, or thinking about moving to the Midwest should first read this blog. Wisconsin is a wonderful state to live in - with affordable housing, beautiful state parks, plenty of waterfront, delicious restaurants, and so much more. We at Dallaire Realty are here to help with your relocating and moving needs! If you're interested in homes for sale in Northeastern Wisconsin - we've got you covered!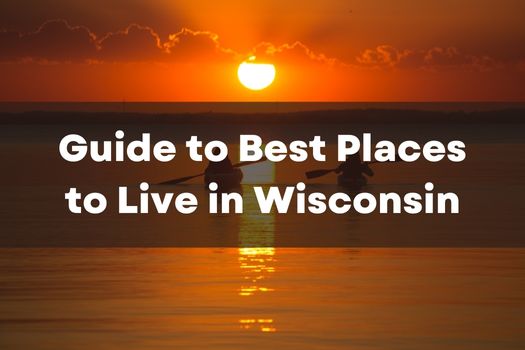 Northeastern Wisconsin is thriving with local businesses, friendly communities, top notch education systems, and affordable housing. Whether you're a Wisconsinite, or a newbie to this beautiful state, there's so many things to do and discover. With a wide variety of living accommodations - there is something for everyone in Northeastern Wisconsin.
Enjoy time by one of the many lakes, discover the historic downtowns, explore the many outdoor recreational opportunities, indulge in the entertainment and sporting events, enjoy nightlife activities, and take part in family fun. Check out this article to learn more about the many places to call home in Northeastern Wisconsin. Whether you enjoy living in an urban city, or enjoying the scenery in rural parts of the state - we're here to help with your relocation needs!
Check out the best places to live in Wisconsin!
Green Bay, WI
Green Bay is the third-largest city in Wisconsin with a little over 105,000 residents. There are a lot of different types of homes for sale in Green Bay's real estate market. The Green Bay region offers a variety of housing options, including single-family houses, townhomes, and condominiums. This thriving city has many activities, amenities, and things to discover for new residents.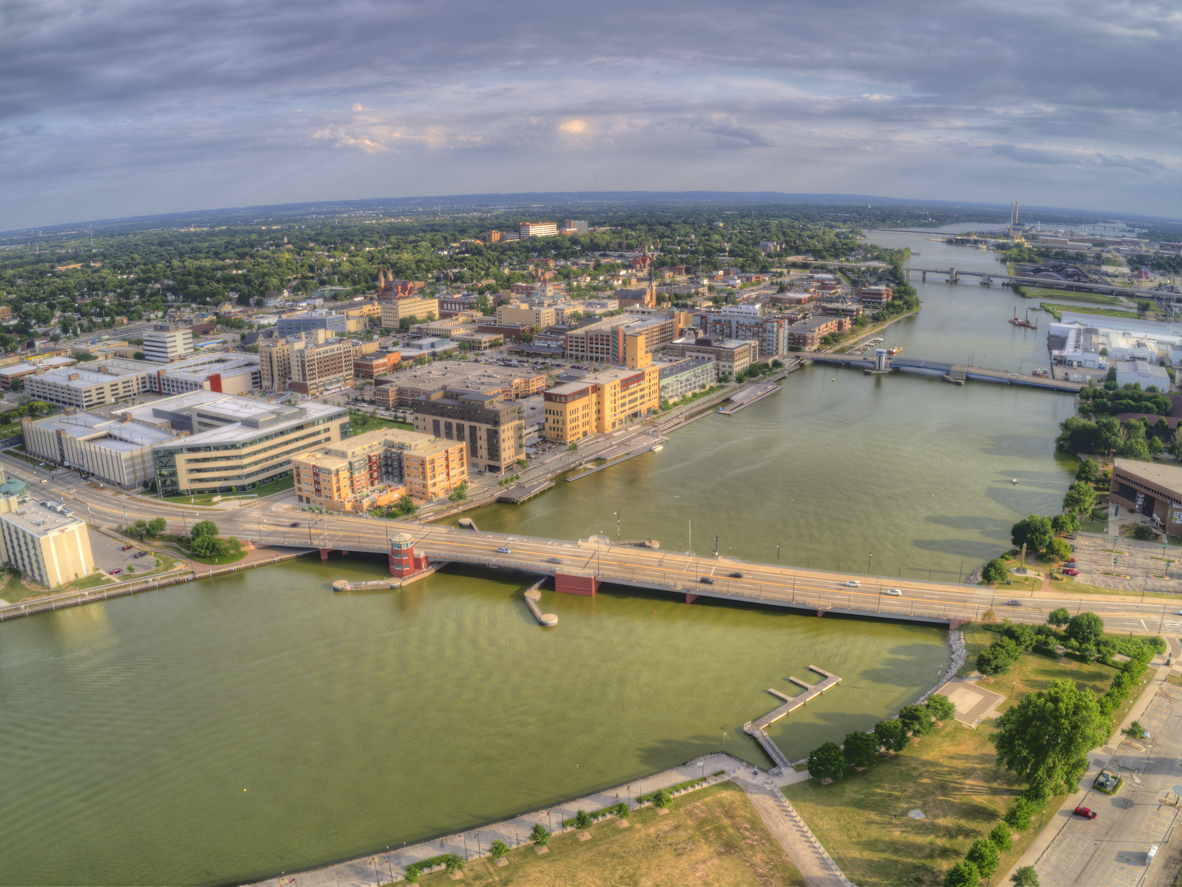 Things to Do in Green Bay, WI
There are many popular attractions located in the Green Bay area. Check out our recent blog for the many things to do in Green Bay, WI!
Sports enthusiasts can enjoy watching the Green Bay Packers at Lambeau Field, and the Green Bay Gamblers hockey at the Resch Center. Visitors from all over the world come to see these fast paced sports in action. With state of the art sporting facilities, Green Bay is a great city for lovers of all things sports. Enjoy fishing adventures, soccer leauges, basketball communities, and so much more.
Tune in for non-stop fun at one of Green Bay's many attractions. Enjoy family fun at Tundra Lodge Resort and Waterpark, indulge in the performing arts all throughout the Green Bay area, hit up the Oneida Casino, explore a local museum, or enjoy one of the Northeastern Wisconsin parks, trails, and outdoor recreation! There truly is something for everyone in Green Bay.
Looking for a place to shop til you drop? Check out Green Bay's local shops, boutiques, malls, and downtown businesses. Shop local at the Green Bay farmers market, or enjoy an indoor shopping mall experience. Find a Wisconsin souvenir at one of the many gift shops, and find your next stylish outfit at one of Green Bay's unique boutiques. Whether you're making your shopping trip a day trip, or just have a few hours to kills, you won't be disappointed with the shopping options Green Bay has to offer.
All this fun is bound to make you hungry! Grab a bite to eat at one of the many tasty restaurants and bars located throughout Green Bay, WI. From fine dining, to local eateries, there is something for everyone. Are craft beverages your vibe? Green Bay is home to many unique breweries and bars that offer homemade creations, freshly brewed beers, and fun cocktail options! Don't skip dessert - explore Green Bay's sweet shops, local bakeries, and ice cream shops.
Affordable Housing in Green Bay, WI
There are many unique affodable homes for sale in the city of Green Bay, Wisconsin. Green Bay houses provide excellent value in terms of price and quality, whether you're a first-time home buyer or moving from another location. Whether you are interested in a single family home, a condo, or a townhome - Green Bay has a wide variety of options. Green Bay is home to many friendly neighborhoods, welcoming communities, diverse job market, healthy living options, and much more.
Looking for something specific? Give us a call and we would be happy to help with you home buying needs!
Educational Opportunities in Green Bay, WI
Green Bay is home to some of the best educational options in Northeastern Wisconsin. With excellent options for K-12 education, as well as offering higher education opportunities - Green Bay is an amazing option for families as well as individuals looking to receive stellar academics. The University of Wisconsin Green Bay (UWGB) as well as St. Norbert College offer higher education with welcoming campuses, excellent student to professor ratio and are a great place to call home. Whether you're looking to attend school in Green Bay, or wishing to relocate to a college town - Green Bay is an excellent choice!
Appleton, WI
Located along the Fox River, Appleton, Wisconsin is a stunning city that is full of thriving businesses, welcoming communities, and many new things to discover. With roughly 70,000 individuals in the Appleton, WI area - this mid sized city has so much to offer. There are a lot of different types of homes for sale in Green Bay's real estate market. Appleton is one of the larger cities located within the Fox Cities area and holds a variety of housing options. Keep reading to learn more about what Appleton, WI has to offer, and be sure to contact Dallaire Realty to help you with all of your Appleton real estate needs.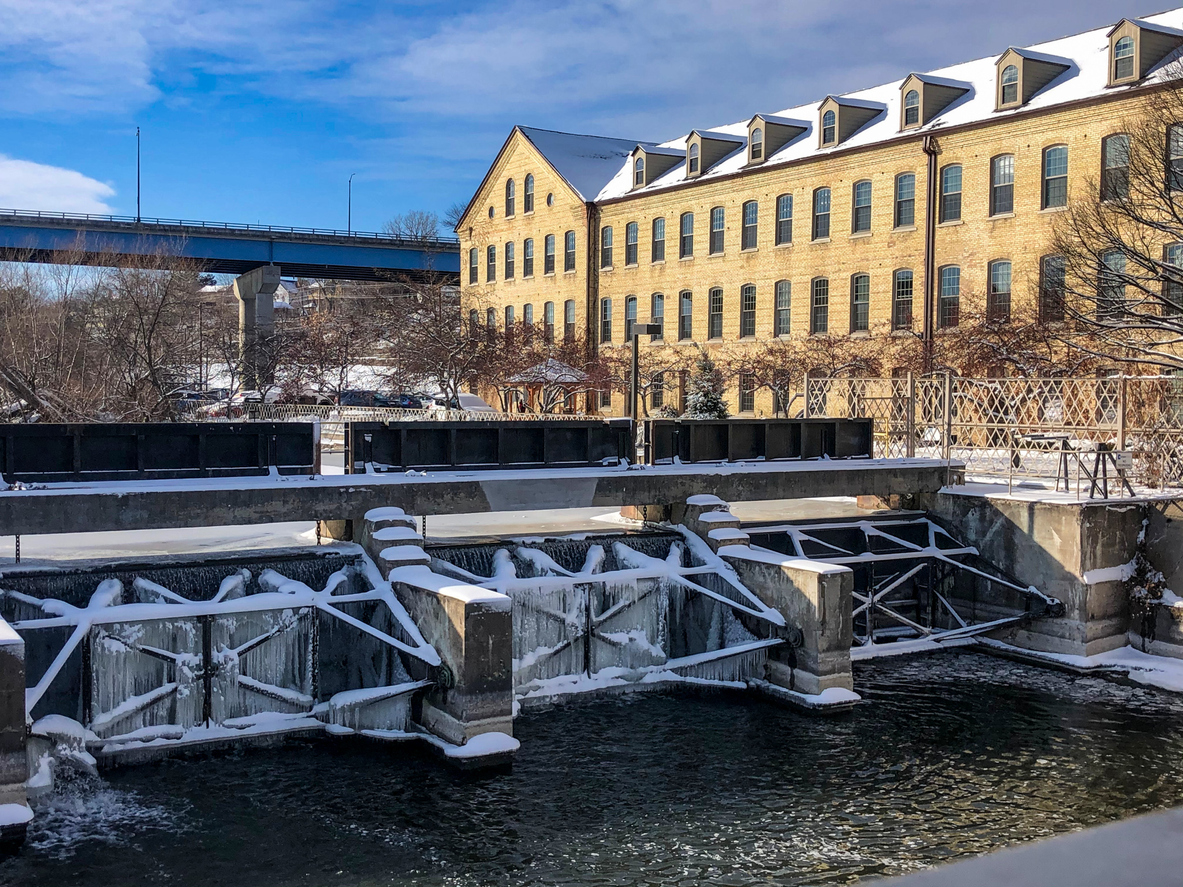 Things to Do in Appleton, WI
Although Appleton is not the largest city in the state of Wisconsin, it sure has a lot to offer! Enjoy big city feels in Downtown Appleton, or explore the great outdoors and all the things Wisconsin has to offer. Explore Appleton and you'll find excellent fine dining options, fun 2023 events, and many nightlife activities.
Explore a wide range of cuisine options in Appleton, WI. Whether you're looking for an excellent brunch spot, hoping to enjoy a relaxing night out, or interested in trying something new - Appleton restaurant and bars have got you covered. Explore a wide range of authentic ethnic restaurants, fine dining establishments, local favorites, and casual dining options. If you're considering moving to the Fox Valley or are in the process of buying a house in Appleton, be sure to ask your Dallaire realtor about their favorite restaurant!
Appleton, WI is a thriving community that has so many fun events to offer throughout 2023! Enjoy indoor activities such as performing arts and indoor music halls throughout the winter months, and indulge in outdoor concerts, waterfront dining, and outdoor recreation in the warmer months. Throughout the year, take part in special events including sporting, foodie, music, and arts events.
Looking for the best nightlife in Appleton, WI? Check out our recent blog, which features the top destinations for the best night out in the city of Appleton. Home to large event venues, comedy clubs, bars, and more - discover a new destination throughout every season.
Affordable Homes for Sale in Appleton, WI
Looking to relocate to the Appleton area? We're happy to help with your home buying process! Discover how amazing Northeastern Wisconsin is and explore Appleton homes for sale. Interested in a specific housing type? Our relators at Dallaire Realty are happy to help you find your dream home, whether that be a condo, townhome, luxury home, or even new construction.
The Fox Cities area is a great place to call home. With a ride range of job opportunities, affordable housing, and thriving neighborhoods - it's no wonder people love Appleton, WI.
Explore the Great Outdoors
With the Fox River flowing through the city of Appleton, outdoor enthusiasts can enjoy both winter and summer activities throughout the year. During the beginning of the year, enjoy fun activities like snowshoeing local trails, ice skating at indoor and outdoor venues, as well as ice fishing. During the spring and summer months, locals and visitors utilize Appleton's many biking trails, hiking paths, and outdoor park spaces.
Nothing beats a Wisconsin summer! Soak up the warm weather and good vibes at an outdoor music event, explore local art and garden facilities, and enjoy the many waterfront dining options.
Oshkosh, WI
With small town charm and big city feels - Oshkosh, Wisconsin is the perfect city to call home. Located on the shores of Lake Winnebago with the Fox River flowing through the heart of the city - Oshkosh is surrounded by water. Enjoyed by both residents and visitors, Oshkosh offers a wide range of attractions, dining, lodging, entertainment, and shopping options. With around 68,000 individuals residing with the city of Oshkosh, this thriving community is home many worldwide events including EAA Airventure, Miss Wisconsin, Waupaca Boatride, Lifest, Battle on Bago, and more!
Read on to discover more about Oshkosh, Wisconsin, and be sure to get in touch with Dallaire Realty for assistance with all of your Oshkosh real estate questions.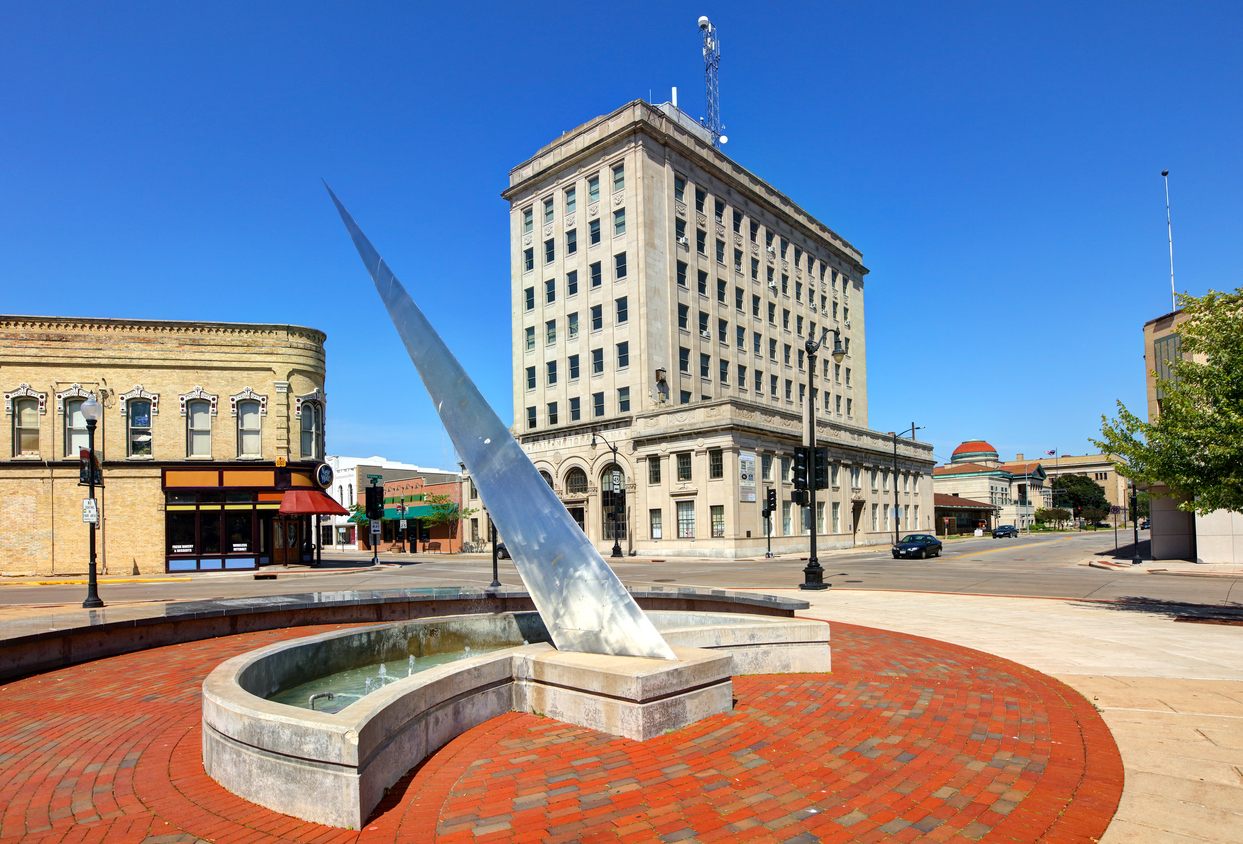 Things to Do in Oshkosh, WI
Whether you're a lover of water activities, a sports enthusiast, arts and music guru, or a major foodie - Oshkosh has a wide variety of amazing this to offer! During the warmer months enjoy soak up the sun on the shores of Lake Winnebago. Rent a kayak, hop on a pontoon and float down the Fox River, or enjoy paddle boarding in the early morning. Take time out of your busy week to enjoy time outdoors. Visit Menominee Park and enjoy a picnic, check out the free zoo, and hop aboard an amusement train ride!
Are colder month activities more your speed? Check out the many unique things to do in Oshkosh, such as Battle on Bago, one of the worlds largest ice fishing tournaments! Enjoy cross country ski trails and ice skating, winter events such as the Celebration of Lights or Holiday Wine Walk, and even cozy up inside an igloo at Fox River Brewing Company! Enjoy year round activities in Oshkosh, WI.
Explore historic Downtown Oshkosh and all that North Main Street has to offer. With a wide variety of shops, amazing restaurants, coffee shops and local bars - Downtown Oshkosh is a must visit. Take a stroll down Main Street at the downtown farmers market, meet some friends at one of the many coffee houses throughout the area, and even enjoy a unique dining experience at one of Oshkosh's local eateries.
Relocating to Oshkosh, WI
Oshkosh, WI offers new development opportunities, charming lake houses, apartment and condo complexes, as well as many original residential homes. Known as Sawdust City, Oshkosh was once home to many lumber and paper mills. This historic town is home to many unique characteristic houses. Oshkosh is a terrific area to live with reasonably priced homes, a top-notch educational system, and plenty of employment options. Our fantastic team of agents at Dallaire Realty is here to assist if you're curious to learn more about the region! Please feel free to reach out to us to learn more about homes for sale in Oshkosh.
We're Happy to Help!
Looking to move to Northeastern Wisconsin soon? Connect with one of our amazing Dallaire Relator's to find your dream house. As always - we would be pleased to assist with any of your real estate-related queries!