Homes for sale in East De Pere
East De Pere Homes for Sale
September 23, 2023
Moving to De Pere's East Side
The City of De Pere's residential beginnings date to 1829 when William Dickinson arrived, and a small group of cabins across the Fox River near Fort Howard were reported. Dickinson foresaw the powerful potential of the river, and became the first settler in the area known as "De Pierre, Ouisconsin." By 1836, Randall Wilcox–known as the first full-time resident of De Pere–built the earliest-known permanent domicile: a majestic Greek Revival building known as White Pillars.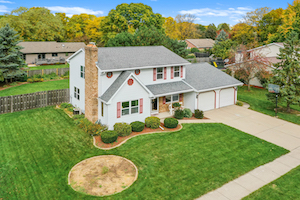 The rapidly expanding community became the county seat from 1837-1854, was officially incorporated as the Village of De Pere in 1857, and annexed the City of Nicolet (now West De Pere) in 1890. East De Pere provides a unique lifestyle opportunity full of downtown entertainment, a scenic historic district, and easy access to the Fox River & bay of Green Bay with multiple boat launches. The downtown area is full of fun for everyone, featuring boutique shopping, supper-clubs, cafes, bakers, and award-winning chocolatier, Seroogy's. For those looking to the past, the East side's hand-operated Fox River Locks offer a unique waterway experience not found elsewhere.
The De Pere Historical Society & Broadway Historic District feature buildings steeped in local culture dating back hundreds of years. With its downtown entertainment options, a historic flair and access to the surrounding waterside communities, it's no wonder that so many locals choose moving to East De Pere as their #1 option!
East De Pere Schools
Founded in 1878, Unified School District of De Pere schools are community focused educational institutions that celebrate their attendees' diverse backgrounds and promote a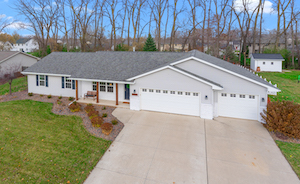 successful curriculum, boasting a 98% graduation rate. East De Pere is home to three elementary schools, each with its own personality.
Serving the downtown area, Dickinson Elementary is within walking distance for nearly all its 500 students, and offers a district-first in-house therapy dog. East of downtown, Heritage Elementary focuses on seeking balance & self-awareness, while Susie Altmayer Elementary, founded in 2007, serves the burgeoning neighborhoods to the South.
Altmayer educators are dedicated to making the school feel like a second home, where each child and family belong. East De Pere students enjoy a unique attendance model that includes the 2021 National Blue Ribbon Schools-High Achievement Award-winning Foxview Intermediate School, home to 5th and 6th graders.
De Pere Middle School is centered around an innovative design specifically catering to the needs of 7th & 8th grade students. With a 90% rate of involvement in extracurricular activities, students advance to high school with self-confidence, passion for creativity, and eagerness to think independently–all skills vital to success.
De Pere High School offers a wide breadth of co-curricular activities, including the well-known marching band, successful athletics, fine-arts programs, and academic clubs. With its 98% graduation rate, parents can be assured that their students are receiving a high-quality education to prepare them for adulthood.
Top East De Pere, WI Realtor®
Dallaire Realty is one of the top real estate companies in De Pere, Wisconsin. They've been helping buyers and sellers for over 17 years with their knowledgeable and experienced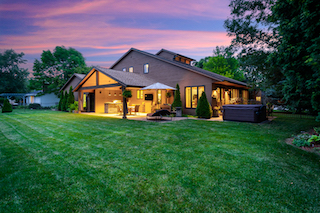 team of agents. Dallaire Realty specializes in all types of real estate, from residential homes to investment properties. Whether buying your first home or selling a home in Northeastern Wisconsin, you've come to the right place.
If you are looking for all of the homes for sale in De Pere our website breaks it down by area and also down to the subdivision level.
Purchasing a home in East De Pere
East De Pere is an ideal place to move, thanks to its variety of home-styles. From modern ranches on winding streets, sleepy boulevards lined with charming Cape Cods, and sprawling Mid-Century Ramblers, to stately Georgian Revivals and stunning Queen Anne Victorians, East De Pere has something for everyone! Residents enjoy streets lined with large trees, an abundance of parks, and public pool. Spring's Celebrate De Pere Festival, along with summer's Pink Flamingo Classic & outdoor concerts by popular local bands offer fun and games for all ages. Whether you're into biking, kayaking, fine dining, or shopping, you'll find plenty of activities to enjoy. If you've been considering purchasing a house on De pere's East side, now is a great time to look around and explore what this wonderful city has to offer.
Selling your home in East De Pere
Selling your home may seem like a cumbersome task, but with the help of an experienced Realtor®, you can be sure that you're in good hands. Our Realtors® are well-versed in East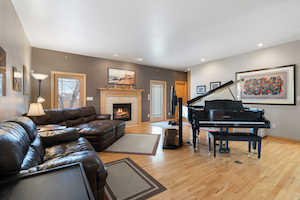 De Pere's unique neighborhoods ranging from cozy mid-century to stunning Victorian homes, and everything in between. Dallaire Realty's expert professionals have the resources to find the right buyer for your home. With the guidance from a seasoned professional, you can rest easy and be assured your best interests are priority from initial valuation to closing day and beyond. Dallaire Realty provides the guidance, insight and connections necessary to make your home sale a seamless & smooth experience.
If you are considering selling your home in East De Pere reach out to Dallaire Realty.
East De Pere's Luxury Real Estate Listings
East De Pere is known for its charming downtown waterfront, locally-owned boutique shopping, and nearby collection of historic homes in the Broadway Historic District. Nestled between tree-lined streets, homes built between 1836 & 1946 boast a constellation of classic styles including Italianate, Greek Revival, Second Empire, English Tudor, High Victorian, and many more. East of Downtown, Colonial, Contemporary, Prairie Revival, and expansive ranch homes line the East River Parkway and its gently meandering streets. De Pere's Luxury homes offer everything from Romantic Era charm to new-builds with every creature-comfort imaginable!
New-Construction homes in De Pere
De Pere is home to a wide variety of home builders who are experienced in building high quality homes. Whether you're looking for a completed new build, or custom dream-home,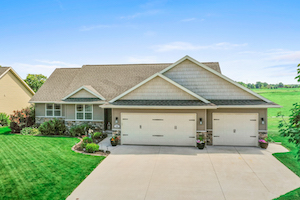 the Dallaire Realty team of professionals has the knowledge and connections necessary to help make your dreams a reality. De Pere is an ideal location for buyers looking for the perfect new home with its offerings of newly completed subdivisions & developments in progress. The City of De Pere is an excellent choice for anyone interested in constructing or buying a new home!
East De Pere, Wisconsin Overview
Whether you're looking for a lively downtown experience, park-like atmosphere, picturesque boulevard, or waterfront views, De Pere's East side has it all. Enjoy the small-town feeling with all the amenities & highly rated schools minutes from your front door! Fine dining, athletics, festivals, concerts, and a close-knit sense of community are just a few of the myriad aspects comprising De Pere's rich culture.
All De Pere Neighborhoods
Contact Your De Pere Realtor®