Green Bay Real Estate and Homes for Sale
Green Bay Homes for sale
October 3, 2023
Green Bay is a city in Brown County, Wisconsin, and is part of the Green Bay metropolitan area. The city has a population of 105,207 people, according to the 2019 census estimate, making it the third-largest city in Wisconsin. The real estate market in Green Bay is very diverse with plenty of properties available for sale. From single-family homes to townhomes and condos, there's something for everyone in the Green Bay area. The average home price in Green Bay is $250,000, with plenty of homes available for under $200,000
Moving to Green Bay
Green Bay, Wisconsin is a vibrant city with plenty to offer new residents. Located in the northeastern part of the state, Green Bay is just minutes away from Lake Michigan and other attractions like Lambeau Field – home of the Green Bay Packers. With great schools, unique local businesses, and plenty of outdoor activities, it's no wonder why so many people are looking to move to this amazing city. Whether you're searching for your forever home or a place to stay while visiting family and friends in the area, there's something for everyone here in Green Bay! From charming historic homes to modern apartments and condos, you can find whatever type of housing suits your needs best. And if you need help finding that perfect place? Don't worry; our team of experienced real estate agents specializes in helping buyers find their dream home!
Schools and Education in Green Bay, WI
Green Bay is home to some of the best schools in Wisconsin. With a variety of public and private school options, Green Bay families have access to quality education for their children. Whether you're looking for an elementary school or high school that offers rigorous academics, extracurricular activities, or specialized programs like STEM or music classes - Green Bay has it all!
Green Bay prides itself on offering its students a robust educational experience. In addition to core curriculum offerings like math, science, language arts, and social studies, many schools offer advanced classes such as AP courses and dual-enrollment opportunities with local colleges. Additionally, most schools provide extra-curricular activities, including athletics teams (like football and basketball), student clubs (such as debate teams and band), and after-school programs that focus on areas like art or computers. Furthermore, many schools also offer extended learning experiences through field trips both locally within Wisconsin as well as abroad. No matter what type of schooling your child needs – there are plenty of great options available in the Green Bay area!
Top Green Bay, WI Realtor®
Dallaire Realty is one of the top real estate companies in Green Bay, Wisconsin. They've been helping buyers and sellers for over 17 years with their knowledgeable and experienced team of agents. Dallaire Realty specializes in all types of real estate, from residential homes to investment properties. Whether buying your first home or selling a home in Northeastern Wisconsin, you've come to the right place.
Buying a Home in Green Bay WI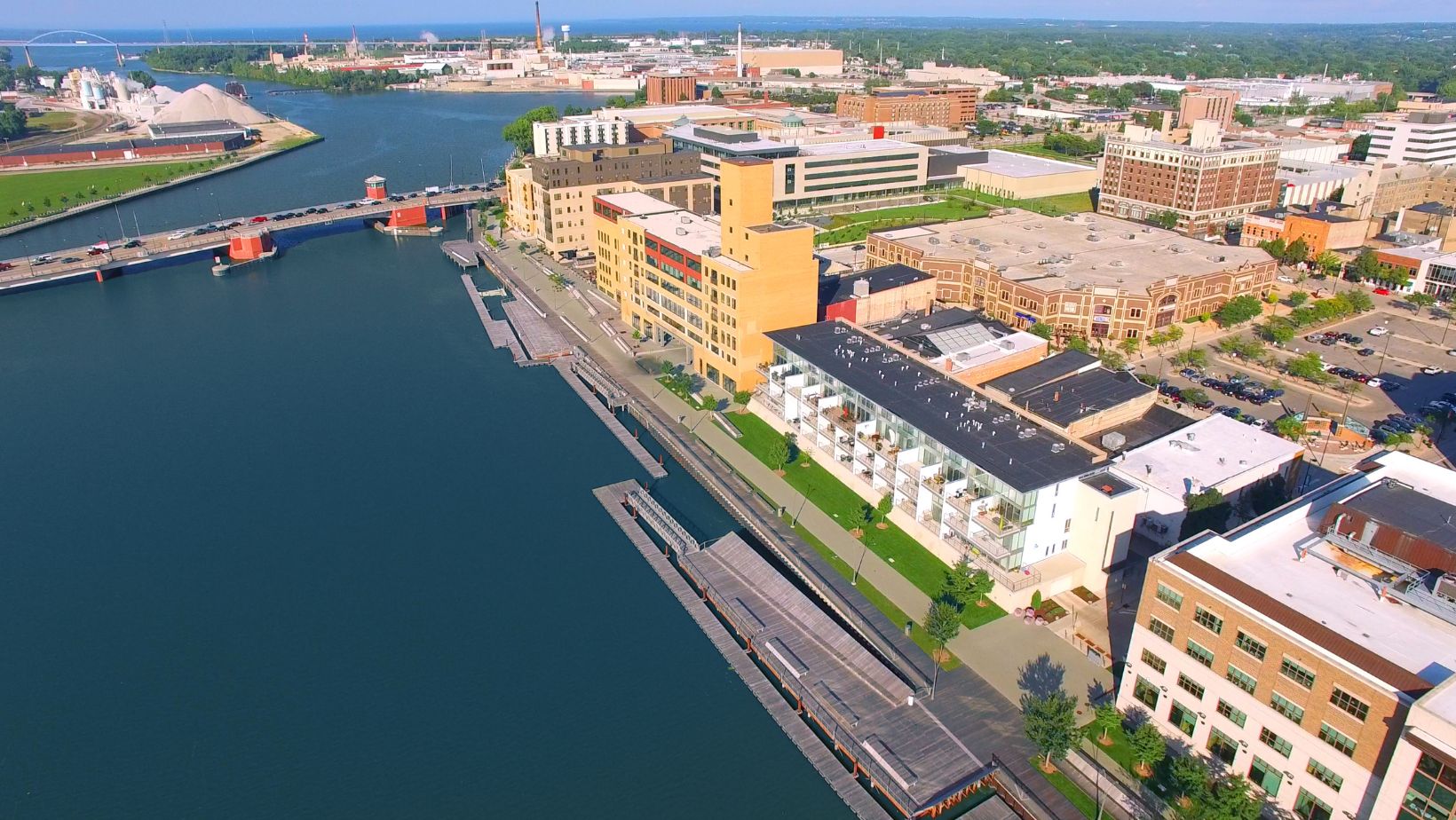 When preparing to buy a home in Green Bay you'll want to ensure you have a great understanding of how to buy a house. Buying a home is a roller coaster ride, working with the right Realtor® for you will help make things a bit smoother in the process.
On our website, you will find all the homes for sale in the greater Green Bay area. Our data is imported directly from the Realtors Association of Northeastern Wisconsin MLS and updated every 15 minutes to ensure all real estate listings are accurate for our web visitors. On our website, you will see a lot of different types of functionality to help you find the perfect home. We spent many hours developing search functionality that makes it easy to search for a house by the school district, zip code, luxury, new construction, and many more options!
Selling my home in Green Bay
Working with a top Realtor® when listing your home for sale in Green Bay is extremely important. The best Realtors® use selling strategies that help sellers net the largest profits, and every homeowner wants to make the most money for the sale of their home! Understanding the local market in your neighborhood will help you accurately determine a list price, your Real Estate Agent will help you with this. If you're considering selling for sale by owner on your home in Green Bay, WI you'll want to check out this guide to help you. Additionally, you may want to learn more about if selling with a Real Estate Agent will make you more money on the net profits.
Either way, it's a great time to be a seller in Green Bay as inventory levels are low, and the pool of buyers is high. It's a perfect storm for anyone selling their home in Green Bay, WI.
Luxury Real Estate Listings in Green Bay
Green Bay is home to many luxury homes in and around the greater Green Bay area. Whether you're looking for a new construction home, an executive-style estate, or a waterfront property - Dallaire Realty can help! With our team's vast knowledge of the luxury home market within Northeastern Wisconsin, most of our buyers find the perfect home on the first try!
If you're interested in luxury homes for sale in Green Bay, WI please contact our office and get connected with one of our experienced agents. He or she will help guide you through the entire process.
Green Bay New Construction Homes
One of the best spots for builders and developers right now is Green Bay, WI. So it's no wonder there are so many new construction homes for sale in Green Bay. A lot of Green Bay neighborhoods are being developed into luxury neighborhoods, with amenities such as golf courses and homes with a lot of square footage.
When buying a new construction home, you'll want something to help guide you through the process. When you're ready to buy a newly built house, you'll want to make sure you work with a top local Realtor® that has experience in working and negotiating with sales reps and builders. Creative negotiations on appliances and upgrades go a lot further than trying to lower the price.
Green Bay, Wisconsin Overview
Green Bay, WI is a great place to live with many things to do. From the famous Lambeau Field, home of the Green Bay Packers, to some of the most scenic views in Northeastern Wisconsin - Green Bay truly has it all. The city offers many parks and trails for outdoor enthusiasts, excellent school programs, and educational opportunities.
Popular Green Bay Searches
All Green Bay Neighborhoods
Relocation Information for Green Bay Wisconsin
Green Bay is a city in Wisconsin located in Brown County, and according to Niche is cited to be "one of the best places to live in Wisconsin." When in Green Bay, residents are offered a feel of what it means to live in a dense suburban neighborhood, with nearly all locals owning their homes. Niche gives Green Bay an A- on livability. Many of the buildings are rather dated, yet some residents only have good things to say about the city. One such resident quotes, "Green Bay is beautiful if you look beyond the buildings. During the fall, the park's trees turn into an aesthetic shade of yellows, reds, and oranges. Children play in the playgrounds as their parents watch them. Green Bay is known for its bars and the Green Bay Packers."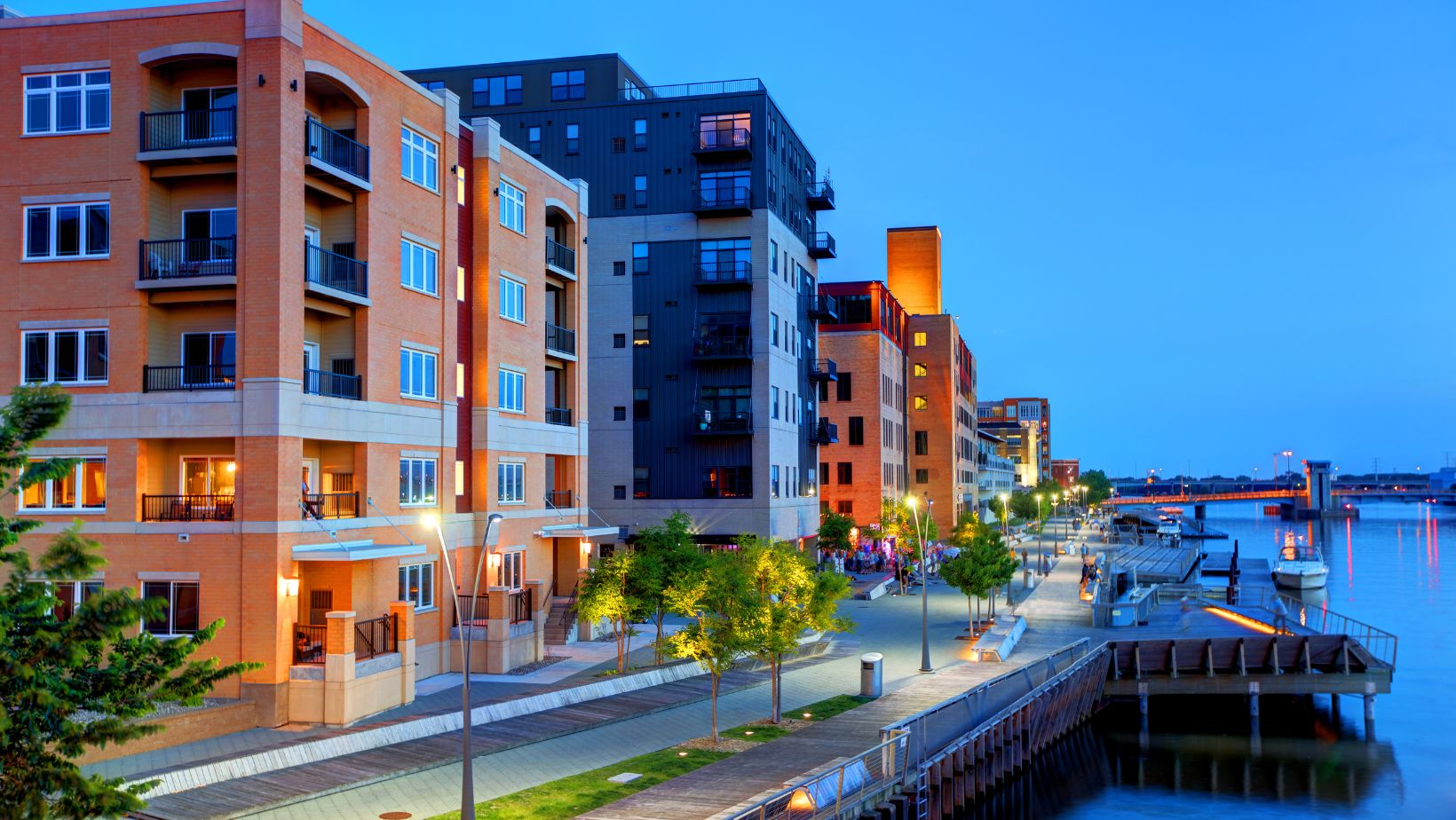 But what about other aspects of the city? What about the school systems, and their rankings? Or homes, and their affordability? What about the commute? Well, look no further, and continue to read to find the answers to all of your questions.
The City
Green Bay, WI, known for being home to the Green Bay Packers, is a city that offers a plethora of different ranges of activities for all people. It is a versatile source of entertainment where nature lovers can enjoy hiking while exploring thralling areas of unspoiled nature, sanctuaries, and wilderness parks.
Restaurants
Because Green Bay, WI is a city, that means when it comes to the food scene, you are sure to be met with a diverse selection. From delicious steakhouses to upscale restaurants, you are sure to find yourself fully immersed in the food culture. Some amazing food experiences come straight from the following:
Tavern in the Sky. If you are in search of a high-end dining experience, then Tavern in the Sky won't disappoint. This elegant restaurant overlooks the famous Lambeau Field and features stunning aesthetics that match the food. You and your family or a group of friends will be able to select from a wide range of local delicacies such as a bowl of wild rice soup, a famous Wisconsin cheese platter, sturgeon, and more. Another great feature of this restaurant is its inclusivity in offering vegetarian-friendly options on its menu. With a sleek ambiance and affordable prices, this restaurant is a great place for date night with that special someone too.
Republic Chophouse. The Republic Chophouse is a classic steakhouse that is a top-featured place in Green Bay for a special occasion. The atmosphere is shrouded in low lighting and a rich wood bar and is one of the more sophisticated Green Bay restaurants to try. There is a wide range of food featured on the menu, with its artisan beef being a top request amongst locals. The chance to order items from the changing menu is at your disposal, as well as a selection of the hand-picked wine list. If it's a steak you are after, then Republic Chophouse is for you.
Chefusion. Looking for vegan food in Green Bay? Look no further than Chefusion, a famous fine-dining Green Bay restaurant to visit. It is known best for its American cuisine with vegan, vegetarian, and meat options. Featured as a Chicago-style restaurant, there is a lounge where you and your family or friends can enjoy live music. A few top dishes include the veal short rib, lobster, pork belly BLT, and more.
Shopping
Green Bay has an eclectic mix of shopping opportunities with a range of classic malls, unique boutiques, and local artisans. Are you in search of the perfect Green Bay, WI souvenir, new art piece, or confectionary treat to take home with you? There are quite a few shopping districts you and your family or friends will want to check out.
American Antiques & Jewelry. Experienced in buying, selling, and trading jewelry, coins, antiques, collectibles, and more, American Antiques & Jewelry has been family owned and operated for over 25 years. A handful of in-store services include interest-free lay-a-way with 20% down and monthly payments. There is also 12-month special financing, and jewelry rentals for proms, weddings, and other special occasions. This is a shiny store you won't want to miss checking out.
Homestead Decor, INC. At Homestead Decor, INC you can discover many exhilarating ways to decorate your home or business. They have a wide selection of furniture and accessories to complement and enhance the look you are going for. The featured unique decorative home accents are perfect for any style. There is something for everybody in the inventory of baby gifts, bath and body care, home cleaning, and fragrance products for gifting purposes. Some of the finest brands carried at Homestead Decor, INC includes Vera Bradley, Bonn Bonn, Brighton and Sister's Gourmet dips and mixes, and many more.
ZuLou. This woman's clothing boutique is located in the shopping district of North Broadway Street in downtown Green Bay and is the perfect stop when visiting the area. ZuLou has just the right thing you are looking for. Flanked by friendly staff, the options in the boutique are limitless. From laid-back women's apparel to formal dresses, to every-day-wear, you will find nothing but exceptional quality and one-of-a-kind character.
Amusement
At Green Bay, WI, local and national entertainment regularly take the stage. Wineries grow their grapes to produce in-state wine. Artists find their inspiration in the old city, and some of the best attractions reside right in the city at your disposal.
Joannes Family Aquatic Center. Featuring a heated pool with a zero-depth wading area, Joannes Family Aquatic Center prides itself on age inclusivity at the 29-acre Joannes park. Older kiddos will enjoy the thrilling ride down one of the two featured 23' high water slides and drop slide, while younger kiddos can have fun going down the mini slide in the shallow pool with many water fountains and sprayers to splash in. The aquatic center provides lounge chairs, and coin-operated lockers in both the locker room and the lounge deck so you can kick your feet up and enjoy the fun.
Barkhausen Waterfowl Preserve. Located on the west shore of the Bay of Green Bay sprawled over 920 acres, the Barkhausen Waterfowl Preserve comprises forest, meadows, and wetlands. These grounds hold historical importance as they were once home to Native American tribes that used the preserve to hunt and fish. This area is a refuge for a wide variety of waterfowl, wildlife, and plant life. Featuring over nine miles of scenic hiking trails, groomed for year-round use, as they are cleared for cross-country skiing in the winter months, this area is every nature lover's dream come true.
Green Bay Packers Hall of Fame. Recently renovated, the Green Bay Packers Hall of Fame is a two-story shrine that is devoted to displaying and sharing the history of the Green Bay Packers with the players, coaches, and fans who have all been part of the story since the beginning. Located inside the Lambeau Field Atrium near 1919 Kitchen Tap, the hall of fame makes for a wonderful addition to the Lambeau Field Stadium Tours. Take a walk with family and friends through the hall of fame museum to learn about and see the history that built the sacred grounds of Lambeau.
The Homes & Schools
The overall population of Green Bay, WI is 104,508 with an overall B- rating on the Niche grading system. The median home value is $142,000, with the national being $229,800. The median rent value is $768, with the national value being $1,096. As mentioned above, the area provides a dense suburban feeling to its residents, with 56% of locals owning homes and 44% renting. Below are some of the best neighborhoods in the Green Bay, WI area, and the great features attributed to each one. For school systems, Niche gives a B rating to Public schools, with each having a rating of its own.
Neighborhoods
Schools
There are a total of 178 schools divided by age group in Green Bay, WI, and 123 private schools. The top-rated public schools in this list are based on a variety of measures, with the two most important being academic performance and equity.
Elementary Schools
Leonardo Da Vinci School for Gifted Learners
Public, k-8
9/10 Rating
Macarthur Elementary School
Public, k-5
8/10 Rating
Aldo Leopold Community School K-8
Public, k-8
7/10 Rating
Langlade Elementary School
Public, pk-5
7/10 Rating
Webster Elementary School
Public, pk-5
7/10 Rating
Middle Schools
High Schools
Jobs & Surrounding Cities like Green Bay
Jobs in Green Bay, WI has a B+ rating on Niche, based on employment rates, jobs, and the overall cost of living. There are many, many places to work in Green Bay, as well as tons of great job openings. From hospital gigs to packaging, and grocery stores, the options for work are unlimited.
Places like Green Bay include Elgin, a city in Illinois (B+ rating), Rockford, a city in Illinois (B- rating), Grand Rapids, a city in Michigan (A- rating), and Madison, a city in Wisconsin (A+ rating).
Transportation
The Green Bay Metro bus system offers public transportation in and around Downtown Green Bay, WI. There are many stops and different routes available throughout the downtown area, with complete route schedules as well as fare information that can be found by visiting various websites. The Green Bay Metro Transit has 13 bus routes in Green Bay with over 797 bus stops. Of course, Uber and Lyft are available in Green Bay. The city also has a train! The main train station in Green Bay is Bus Terminal- 901 University Ave. It is the busiest station, with the most train arrivals, with trains making stops in and around Green Bay.
Contact Your Green Bay Realtor®